Peripheral Artery Disease (PAD)
This channel includes news, interventions, and new technology innovations for peripheral artery diease, PAD and critical limb ischemia. 
August 23, 2019 — Cook Medical recently released the second generation of the 2.6 Fr CXI Support Catheter with platinum ...
August 14, 2019 — Concept Medical Inc. (CMI) has been granted "Breakthrough Device Designation" from the U.S. Food and ...
August 13, 2019 — A simple change in the way health professionals track their patients' progress has brought improved ...
August 13, 2019 — Non-invasive techniques and devices for assessing blood flow and other diagnostic considerations for ...
August 1, 2019 — Less-invasive procedures to open severely clogged leg arteries were as good at helping people survive ...
July 17, 2019 — A new analysis published by The Sage Group LLC concludes that the all-cause cost of critical limb ...
June 20, 2019 – VEITHsymposium and the Cardiovascular Research Foundation (CRF) announced an alliance between Transcathe ...
May 29, 2019 — Philips announced the three-year results from the ILLUMENATE Pivotal trial and the ILLUMENATE European ...
April 15, 2019 – Intact Vascular Inc. received U.S. Food and Drug Administration (FDA) market clearance for the Tack ...
February 27, 2019 — Ra Medical Systems Inc. announced a 98 percent success rate in the results from a 52-patient study u ...
Feature | SCAI | Subhash Banerjee, M.D., FSCAI, Abu-Fadel Mazen, M.D., FSCAI and Rajesh Swaminathan, M.D., FSCAI
Clinical study data makes the world go around in cardiology and is the basis of setting guidelines in evidence-based ...
February 12, 2019 — A study presented at the 2018 annual meeting of the Cardiovascular and Interventional Radiology ...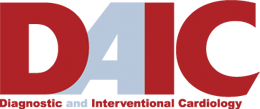 Subscribe Now