Radiation Dose Management
This channel includes news and new technology innovations for X-ray radiation dose monitoring, dose management, dose recording and radiation safety for cath lab staff. Technologies include systems to reduce or block dose via barriers or computed tomography (CT) dose reduction technologies such as iterative reconstruction.
April 4, 2019 — The U.S. Food and Drug Administration (FDA) granted Omega Medical Imaging 510(k) clearance to offer ...
April 1, 2019 — Here is a checklist of dose-sparing practices for coronary computed tomography angiography (CCTA) ...
March 7, 2019 — A new dosimetry monitoring service from Thermo Fisher Scientific enables medical and imaging facilities ...
There are a few recent trends in X-ray angiography imaging systems that hospitals should be aware of if they are looking ...
October 3, 2018 — Image Diagnostics has entered into a product development agreement with ECLS Inc. to design a new radi ...
Here are the stories and other content in the July-August 2018 issue of Diagnostic and Interventional Cardiology (DAIC) ...
Radiation dose management is central to child patient safety. Medical imaging plays an increasing role in the accurate ...
June 6, 2018 — Here is a checklist of dose-sparing practices for angiographic X-ray imaging used in the cath lab. This ...
A new consensus document on how to mitigate radiation exposure in cardiac imaging for both patients and staff was issued ...
May 31, 2018 — Here is a checklist of dose-sparing practices for nuclear cardiology that was included in a new 2018 ...
May 10, 2018 — A new consensus document has been issued to guide the optimal use of ionizing radiation in cardiovascular ...
In the past, there was not much that could be done to mitigate the X-ray radiation exposure of interventional ...
We started our design from the ground up, tested many prototypes, did not want to compromise on radiation protection for ...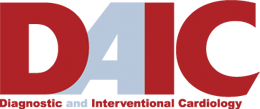 Subscribe Now