Stents Bioresorbable
This channel includes news and new technology innovations for bioresorbable stents (BRS). These devices are also referred to as bioabsorbable stents, bioresorbable scaffolds and dissolving stents. BRS are designed as an alternative to permanent metallic stent implants, which cause issues in a small number of patients with in-stent restenosis, late-stent thrombosis and require use of long-term antiplatelet therapy. Metallic stents also cause issues with CT and MRI imaging and may prevent future options for coronary bypass graft (CABG) surgery. BRS are supposed to remove avoid these issues by dissolving and disappearing from the vessel after a period of 2-4 years. This, returns the vessel to its natural state and allows for the return of vasodilatation and vasoconstriction. BRS have had some issues in clinical trials not being able to match the performance of standard metallic drug eluting stents (DES) because of their thick stent struts. Newer generation BRS are in development with struts smaller than 100 micros, with will be closer to those of current generation metallic stents
Patrick Serruys, M.D., Ph.D., Imperial College London, explains where development of bioresorbable scaffolds stands in ...
June 19, 2018 – Amaranth Medical offered new details about its 85-micron Defiance bioresorbable scaffold (BRS) recently ...
May 31, 2018 – Late-breaking trial results presented at the EuroPCR Congress, May 21-24 in Paris, France, found the ...
January 25, 2018 – Elixir Medical Corporation, a leader in the development of breakthrough adaptive remodeling ...
There was no shortage of interest in bioresorbable stent technologies at the many sessions offered on this topic or ...
November 8, 2017 – New results from the HARMONEE Japan/U.S. Registration Trial, reported by in a first report ...
October 31, 2017 – Thirty-day results from ABSORB IV, the largest randomized everolimus-eluting bioresorbable vascular ...
October 31, 2017 — The U.S. Food and Drug Administration (FDA) issued a warning to healthcare providers that interim ...
October 25, 2017 — Amaranth Medical will provide an update at the annual Transcatheter Cardiovascular Therapeutics (TCT) ...
September 8, 2017 — Abbott Vascular has announced it will end commercial sales of its Absorb bioresorbable vascular ...
Stephen Ellis, M.D., professor of medicine and director of interventional cardiology at Cleveland Clinic, discusses the ...
March 21, 2017 — In the late-breaking ABSORB III Trial two year results presented at the American College of Cardiology ...
Stents were the key focus of interventional cardiology for more than 20 years, but the focus has changed in recent years ...
DAIC has worked hard to bring useful technology news and resources to our readers. While we conduct reader surveys and ...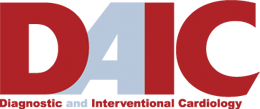 Subscribe Now