June 5, 2019 – BGN Technologies, the technology transfer company of Ben-Gurion University (BGU), introduced a novel ...
May 17, 2019 — Biopharmaceutical company CellPoint plans to begin patient recruitment for its Phase 2b cardiovascular ...
May 10, 2019 — Shine Medical Technologies Inc. broke ground on their first medical isotope production facility in ...
Feature | Dave Fornell, Editor, and A.J. Connell
May 1, 2019 — Here is the list of the most popular content on the Diagnostic and Interventional Cardiology (DAIC) maga ...
This week, cardiologists learned for the first time they have been examining black holes for decades and did not know it ...
The fingerprints of value-added medicine were all over products and works-in-progress on the exhibit floor of the annual ...
Many of the latest advances in cardiovascular imaging technologies are unveiled each year at the Radiological Society of ...
December 5, 2018 — Subtle Medical announced 510(k) clearance from the U.S. Food and Drug Administration (FDA) to market ...
November 25, 2018 — During the 104th Scientific Assembly and Annual Meeting of the Radiological Society of North America ...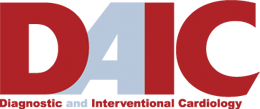 Subscribe Now