June 20, 2019 – VEITHsymposium and the Cardiovascular Research Foundation (CRF) announced an alliance between Transcathe ...
June 13, 2019 — Orchestra BioMed Inc. announced it has formed a global strategic partnership with Terumo Corp. for ...
June 10, 2019 – W. L. Gore & Associates (Gore) announced the U.S. Food and Drug Administration's (FDA's) premarket ...
May 15, 2019 — Cordis, a Cardinal Health company, recently announced the full U.S. launch of its Radial 360 portfolio ...
April 23, 2019 — The U.S. Food and Drug Administration (FDA) has cleared the Boston Scientific Lotus Edge transcatheter ...
February 22, 2019 — The U.S. Food and Drug Administration (FDA) has approved the Biotronik Orsiro drug-eluting stent ...
In recent years, there has been a lot of focus by vendors on developing better stenting technologies to treat peripheral ...
January 2, 2019 — Edwards Lifesciences Corp. announced that the Sapien 3 Ultra system has received U.S. Food and Drug ...
October 17, 2018 — Shimadzu Medical Systems USA and Change Healthcare have entered a partnership through which Shimadzu ...
There is a hype cycle surrounding new technologies in all industries, but medicine is unique because of its focus on ...
October 12, 2018 – Reva Medical presented four key data sets demonstrating the capabilities of the company's Fantom bior ...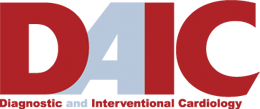 Subscribe Now