Stents
This channel includes news and new technology innovations for stents, also called vascular scaffolds. Stents are used to help prop open a vessel treated by balloon angioplasty because of the barotrauma caused by the extreme stretching of vessel walls. The stent enables to vessel to heal in an open position with collapsing. Drug eluting stents (DES) are coated in anti-proliferative drugs to precent scar tissue growth which can cause restenosis and occlude the vessel. DES require antiplatelet therapy because the drug carrier polymer on DES can cause thrombus inside the stent, even years after treatment, which is why bare metal stents are still used in some patients. This page includes news on coronary stents, carotid stents, peripheral stents, bioresorbable stents, and renal stents. 
In recent years, there has been a lot of focus by vendors on developing better stenting technologies to treat peripheral ...
There was a lot of hype and high hopes pinned on bioresorbable stent technologies as the way of the future two years ago ...
The anti-proliferative drug paclitaxel has been used as a coating on coronary stents to prevent restenosis since 2003 ...
The rise cardiovascular disease has been instrumental in fueling the coronary stent market share in the past few years ...
January 17, 2019 — The U.S. Food and Drug Administration (FDA) issued a letter Jan. 17, 2019, to healthcare providers ...
There is a hype cycle surrounding new technologies in all industries, but medicine is unique because of its focus on ...
October 12, 2018 – Reva Medical presented four key data sets demonstrating the capabilities of the company's Fantom bior ...
A discussion with Professor Ian Meredith, MBBS, Ph.D., global chief medical officer and executive vice president, Boston ...
October 5, 2018 — Veryan Medical Ltd has received Premarket Approval (PMA) for the BioMimics 3D Vascular Stent System ...
October 4, 2018 – Investigators unveiled clinical data from the independent BIONYX and SORT OUT IX all-comers trials ...
DAIC Editor Dave Fornell takes a tour of some of the most innovative new cardiovascular technology he found on the expo ...
October 1, 2018 — Recent results from the BIONYX randomized clinical study showed the novel, thin-strutted, polymer ...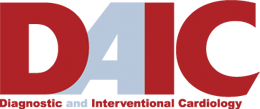 Subscribe Now