Stents
This channel includes news and new technology innovations for stents, also called vascular scaffolds. Stents are used to help prop open a vessel treated by balloon angioplasty because of the barotrauma caused by the extreme stretching of vessel walls. The stent enables to vessel to heal in an open position with collapsing. Drug eluting stents (DES) are coated in anti-proliferative drugs to precent scar tissue growth which can cause restenosis and occlude the vessel. DES require antiplatelet therapy because the drug carrier polymer on DES can cause thrombus inside the stent, even years after treatment, which is why bare metal stents are still used in some patients. This page includes news on coronary stents, carotid stents, peripheral stents, bioresorbable stents, and renal stents. 
September 27, 2018 — Biotronik recently announced U.S. Food and Drug Administration (FDA) approval of the PK Papyrus ...
September 26, 2018 — Positive 12-month data from the late-breaking IMPERIAL trial was presented at the 2018 ...
This is an animation showing how the dedicated bifurcation stent developed by Advanced Bifurcation Systems (ABS) is ...
August 8, 2018 — Boston Scientific Corp. announced it has signed an agreement to acquire Veniti Inc., which has ...
Patrick Serruys, M.D., Ph.D., Imperial College London, explains where development of bioresorbable scaffolds stands in ...
July 30, 2018 — Silk Road Medical Inc. recently announced the presentation of real-world data for the treatment of ...
June 19, 2018 – Amaranth Medical offered new details about its 85-micron Defiance bioresorbable scaffold (BRS) recently ...
May 31, 2018 – Late-breaking trial results presented at the EuroPCR Congress, May 21-24 in Paris, France, found the ...
May 31, 2018 — Two-year outcome data from the BIO-RESORT randomized controlled trial were presented in a late-breaking ...
May 29, 2018 – Investigators recently unveiled clinical data from the independently run Onyx 1-Month OCT Study showing ...
May 29, 2018 – Medtronic plc announced the initiation of a U.S. clinical study to assess the safety and efficacy of drug ...
May 25, 2018 — Abbott announced it received approval from the U.S. Food and Drug Administration (FDA) for Xience Sierra ...
May 15, 2018 — The Society for Cardiovascular Angiography and Interventions (SCAI) has released new guidelines to ...
May 15, 2018 — A contemporary, real-world analysis shows lower mortality rates when culprit-only intervention is used ...
April 27, 2018 — Intact Vascular Inc. recently closed a Series C financing totaling $20 million. This financing is ...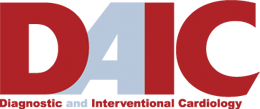 Subscribe Now