Stents
This channel includes news and new technology innovations for stents, also called vascular scaffolds. Stents are used to help prop open a vessel treated by balloon angioplasty because of the barotrauma caused by the extreme stretching of vessel walls. The stent enables to vessel to heal in an open position with collapsing. Drug eluting stents (DES) are coated in anti-proliferative drugs to precent scar tissue growth which can cause restenosis and occlude the vessel. DES require antiplatelet therapy because the drug carrier polymer on DES can cause thrombus inside the stent, even years after treatment, which is why bare metal stents are still used in some patients. This page includes news on coronary stents, carotid stents, peripheral stents, bioresorbable stents, and renal stents. 
December 16, 2020 — Efemoral Medical announced the first-in-human (FIH) use of the its Efemoral bioresorbable vascular ...
November 24, 2020 — One-year results off the PIONEER III study comparing the safety and efficacy of the Supreme HT ...
Here are some of the key takeaways from the late-breaking interventional cardiology and structural heart trials ...
October 26, 2020 — The U.S. Food and Drug Administration (FDA) has cleared the Medtronic Abre venous self-expanding ...
October 17, 2020 – In a surprise to many, a randomized clinical trial found that drug-eluting stents (DES) with durable ...
October 22, 2020 – For patients undergoing percutaneous coronary intervention (PCI), treatment with the nanotechnology ...
October 18, 2020 – A large subgroup analysis of a randomized clinical trial showed neither a mortality risk nor benefit ...
October 16, 2020 – Results from the XIENCE 90/28 clinical trials have shown that a shorter course of dual-antiplatelet ...
October 1, 2020 — Medtronic has received U.S. Food and Drug Administration (FDA) approval for new one-month of dual ...
September 5, 2020 – The TIDES-ACS Randomized Controlled Trial results were published end of July 2020 confirming the ...
September 4, 2020 — The U.S. Centers for Medicare and Medicaid Services (CMS) granted a New Technology Add-on Payment ...
September 3, 2020 — Abbott today announced the start of the LIFE-BTK clinical trial to evaluate the safety and ...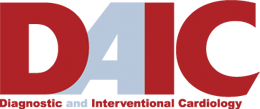 Subscribe Now