Stents
This channel includes news and new technology innovations for stents, also called vascular scaffolds. Stents are used to help prop open a vessel treated by balloon angioplasty because of the barotrauma caused by the extreme stretching of vessel walls. The stent enables to vessel to heal in an open position with collapsing. Drug eluting stents (DES) are coated in anti-proliferative drugs to precent scar tissue growth which can cause restenosis and occlude the vessel. DES require antiplatelet therapy because the drug carrier polymer on DES can cause thrombus inside the stent, even years after treatment, which is why bare metal stents are still used in some patients. This page includes news on coronary stents, carotid stents, peripheral stents, bioresorbable stents, and renal stents. 
November 6, 2019 – Boston Scientific announced positive data for two of its devices within the peripheral drug-eluting ...
The latest in interventional cardiology clinical data and new device technologies were highlighted at the annual Transca ...
October 11, 2019 — The ultra-thin Supraflex drug-eluting stent (DES) from SMT maintained numerically lower outcomes at ...
October 10, 2019 — Here are the Cardiovascular Research Foundation (CRF) 12 late-breaking trials and 16 late-breaking ...
October 3, 2019 – Five-year data from the EXCEL Trial showed patients with left main coronary disease treated with ...
October 2, 2019 — Democratic presidential candidate Sen. Bernie Sanders (D-VT) was hospitalized with chest pain on Oct ...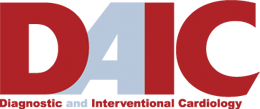 Subscribe Now