Stents
This channel includes news and new technology innovations for stents, also called vascular scaffolds. Stents are used to help prop open a vessel treated by balloon angioplasty because of the barotrauma caused by the extreme stretching of vessel walls. The stent enables to vessel to heal in an open position with collapsing. Drug eluting stents (DES) are coated in anti-proliferative drugs to precent scar tissue growth which can cause restenosis and occlude the vessel. DES require antiplatelet therapy because the drug carrier polymer on DES can cause thrombus inside the stent, even years after treatment, which is why bare metal stents are still used in some patients. This page includes news on coronary stents, carotid stents, peripheral stents, bioresorbable stents, and renal stents. 
May 20, 2022 — Results from a real-world study investigating safety and effectiveness of clopidogrel versus aspirin ...
May 13, 2022 — Vascular diseases are public enemy number one: the leading killers worldwide, accounting for nearly a ...
April 6, 2022 – Narrowed arteries can restrict blood flow to the heart. One treatment is inserting a stent — a small ...
February 16, 2022 – Elixir Medical, a developer of innovative, drug-eluting cardiovascular devices, has announced ...
January 5, 2022 – A cost-effectiveness model based on peer-reviewed sources suggests that although five-year costs for ...
November 22, 2021 — Fewer than 10 days of low-molecular-weight heparin (LMWH) after stenting for extensive iliofemoral ...
November 9, 2021 — Results from SUGAR trial, a randomized, controlled, multicenter trial conducted exclusively in ...
October 15, 2021 — The InspireMD CGuard Embolic Prevention Stent System (EPS) device for the treatment of carotid artery ...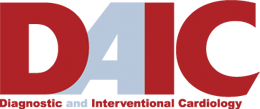 Subscribe Now