Stents
This channel includes news and new technology innovations for stents, also called vascular scaffolds. Stents are used to help prop open a vessel treated by balloon angioplasty because of the barotrauma caused by the extreme stretching of vessel walls. The stent enables to vessel to heal in an open position with collapsing. Drug eluting stents (DES) are coated in anti-proliferative drugs to precent scar tissue growth which can cause restenosis and occlude the vessel. DES require antiplatelet therapy because the drug carrier polymer on DES can cause thrombus inside the stent, even years after treatment, which is why bare metal stents are still used in some patients. This page includes news on coronary stents, carotid stents, peripheral stents, bioresorbable stents, and renal stents. 
July 24, 2020 — CeloNova BioSciences Inc. announced it successfully completed enrollment of the COBRA REDUCE randomized ...
June 16, 2020 — The 36-month results from Veryan Medical's MIMICS-2 study for the BioMimics 3D femoropopliteal stent ...
May 28, 2020 — The rising incidence of cardiovascular disease has prompted people to seek timely treatment to improve ...
May 28, 2020 — Hoag Memorial Hospital Presbyterian recently became the first hospital on the West Coast to perform an ...
May 17, 2020 – A new study sought to reveal whether drug-eluting stents (DES) coated with bioabsorbable polymer (BP) ...
February 24, 2020 — Biotronik announced three-year data from the BIOFLOW-V Trial, which was presented yesterday at the ...
February 19, 2020 — Connectiv, a division of The Software and Information Industry Association (SIIA), has announced the ...
Cardiovascular diseases (CVDs) are among the leading causes of death across the globe. For patients suffering from high ...
November 19, 2019 — Here is a list of the key late-breaking clinical study presentations and links to the results at the ...
November 11, 2019 — Although common femoral artery (CFA) endarterectomy is still considered the gold standard treatment ...
November 8, 2019 — The Absorb bioresorbable stent (BVS) demonstrated good patency and clinical outcomes in patients with ...
November 7, 2019 — Although the Abbott Absorb fully bioresorbable drug-eluting stent (DES) was taken off the market due ...
November 6, 2019 – The final, long-term, patient-level data for the Cook Medical Zilver PTX drug-eluting stent (DES) ...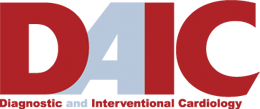 Subscribe Now