Antiplatelet and Anticoagulation Therapies
This channel includes news and new technology innovations for cardiovascular pharmaceutics. This includes antiplatelet agents, anticoagulation drugs, international normalized ratio (INR) testing, oral anticoagulants, IV administered drugs such as Heprin, and dual antiplatelet therapy (DAPT). The most commonly used anticoagulant is warfarin, which available in generic form at a low cost. However, it has a narrow therapeutic window and its effectiveness is altered by food containing vitamin K. To regulate warfarin, regular INR testing is needed. The newer anticoagulation drugs are referred to as novel oral anticoagulant (NOAC). However, since some of these drugs are now more than six years old, they are commonly referred to as non-vitamin K oral anticoagulant (NOAC), and the newest term, direct oral anticoagulant (DOAC). NOAC or DOAC agents have much larger therapeutic windows, do not require INR testing. Aspirin and clopidogrel (Plavix) are the most commonly used antiplatelet agents for the prevention of heart attacks and stroke. They are often prescribed together as DAPT.
October 31, 2018 — Recent statin and medication advances have led some researchers to suggest surgical treatments for ...
October 17, 2018 — The U.S. Food and Drug Administration (FDA) has cleared an additional indication for rivaroxaban ...
September 7, 2018 — The antithrombin drug rivaroxaban does not reduce the risk of a composite endpoint of survival ...
September 7, 2018 — A new Phase 2 clinical trial looks to confirm the efficacy and safety of Thrombolytic Science LLC's ...
September 5, 2018 — Aspirin prevented serious vascular events in patients with diabetes who did not already have ...
August 31, 2018 — Use of an oral anticoagulant in medically ill patients for 45 days following hospital discharge ...
June 27, 2018 — Results from a 902-person, five-country survey of people living with atrial fibrillation (AF) reinforce ...
June 7, 2018 — Results from an international clinical trial show that combining clopidogrel and aspirin following a ...
May 29, 2018 – Investigators recently unveiled clinical data from the independently run Onyx 1-Month OCT Study showing ...
May 18, 2018 — Left atrial appendage closure (LAAC) with the transcatheter Watchman device prevents thromboembolism from ...
May 18, 2018 — Nearly half of patients prescribed warfarin and just under one third of those using newer direct oral ...
May 15, 2018 – Results of the AVIATOR 2 international registry data show a discrepancy between physician perception and ...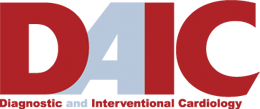 Subscribe Now